Review by Elizabetta
SERIES: Dirty Drag
AUTHOR: Kyle Adams
PART 1: Dirty Drag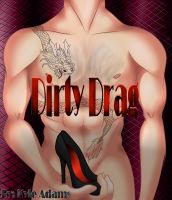 BLURB: Ashley is on a mission, but is he willing to take all the risks to show he's got what it takes? Rick is a man who knows what he wants, and he is willing to do whatever it takes to make sure he gets it. When a gorgeous redhead walks into his local bar, wearing sexy heels and a mini skirt, he knows exactly who wants. But, looks can be deceiving, and sometimes you shouldn't judge a book by its cover.
REVIEW:
Part One: Dirty Drag
…is when a guy just wants to glam it up a bit. Ashley has a penchant for stilettos and he knows how to wear them. Legs up to there, he doesn't just love cross-dressing, he's really into the look and feel of stylish four-inch heels. In his body-hugging get-up— mini skirted, with careful 'dick tucking,' and long, flowing red wig— he just wants to find a nice guy who can top him and show a little tenderness. Literally stumbling into a seedy dive bar one night, he bumps into the studly Rick who has a promising bump of his own. But the race is on to see if Ashley can bag Rick's goods without giving away that she…is really a…he.
"Holding up a condom, Ashley said with a wink, "Aunt Flo's visiting and she's got the front door locked down tighter than Fort Knox, I'll let you sneak in the back though. It's a lubed condom and I already did some prep work, so you can just suit up and slide home."
How can a guy resist? Lucky for Ashley, Rick is smitten and has a thing for feet. You might say, a fetish. Ashley in stilettos really does it for him, but is Rick that stand-up guy Ashley is dreaming of?
LINK: Smashwords
PART 2: The Night Drags on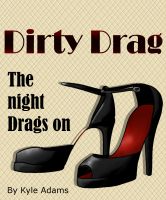 BLURB: If you liked Dirty Drag and wanted to follow along when Ashley left the bar with Rick, well then this story is for you. The night didn't just end in some swanky bar bathroom. No, the night continued with Ashley, our cheeky drag queen, taking Rick up on his offer to take him home. The fun ensues and things get wet – um, wait you'll have to read it to see if that's true.
REVIEW:
Part Two: The Night Drags On
…and things are clicking, so Ashley goes home with Rick to do the dirty. But should he be alone with a virtual stranger? Can he trust Rick to respect him in the morning? Ashley is not just about the flashy glam. He does have a thoughtful, vulnerable side, and he wants to be seen for himself under all the frou-frou. Despite the ruminations, he never loses his cocky 'tude. When Rick whips up some dirty French toast (crushed Oreos on top!!!) Ashley feels it necessary to keep things honest…
"I don't cook." Ashley decided it was best to get some stuff out in the open…"I don't clean either…(but) my body can bend like a pretzel, and I can do things with my mouth that make porn-stars envious. And stamina? Yeah, I got enough to outlast the Energizer Bunny…"
And he proves it in a very sexy and dirrrrty food scene that involves lots of syrup dribbling and sticky licking. But I think the author gets his best "licks" in when the fun focuses again on shoes and feet, with a very special foot 'massage'…these guys are made for each other!
LINK: Smashwords
Part 3: Beyond the Drag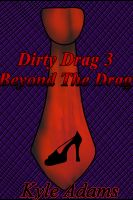 BLURB: Dirty Drag 3: Beyond the Drag picks up right after the shocking conclusion of book two. Ashley is on a new mission to impress Rick and show him he can be serious about a relationship. If he's able to open up and let a few things off his chest and can avoid making a boob of himself in the process, he might just succeed.
REVIEW:
Part Three: Beyond the Drag
… or where Ashley realizes that he may have a really good thing with Rick. But how can he convince Rick that he's more than a bimbo skanktard? Can Rick like a guy who names his fake boobs "Lefty Lucy" and "Righty Tighty"? Can he see beneath the facade to who the real Ashley is?
Adams specializes in these short, hot, humorous reads, always with a dirty edge (also read the latest, "Dirty Boys," written for Goodread's M/M Romance Group 2013 event, "Love Has No Boundaries"). Adams has a lot of fun with his characters and the outrageous Ashley provides lots of good laughs, but he'll also tug at your heart; in the end, it's all about just wanting to be loved for yourself. Adams manages to balance this sweet, softer, side of a character who could easily read as one-dimensional and over the top. It has to be added, though, that while the author does a good job with these two likable guys, a little more care could have been taken with the edit checks. It's great that these are free reads but there's no excuse for some of the careless errors found in the text— they only give a feeling of a rushed product in need of its own special care. Nitpicks aside, you'll have fun with Adams' short stories, just check for "dirty" in the title.
LINK: Smashwords
Elizabetta's Rating:
READ THEM ALL AT ONCE:
BUY LINK: Book Store
==================================
Elizabetta is one of the official reviewers on The Blog of Sid Love
=====================================================
Check out all our recommended books in Sid Love's eBook Store:
Recommended Books
(Support this site and buy the books from my A-store)